Promotional Scratchcards Online - How Does It Work?
Game Design and Graphics
Each promotion is personalised and unique to you with several opportunities to reinforce your brand values and fulfil a range of promotional targets. You can supply us with ready-made graphics or we can do it for you. Here's how a game page goes together: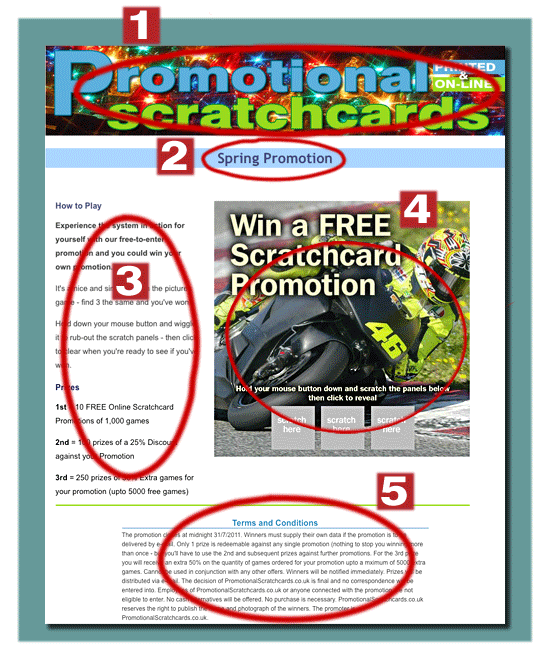 Sample Page
Here's a sample page (which will open in a separate window unless you have Popups blocked) that illustrates how this works. Sample page >>
To keep track of the games (winners, losers and games played) we'll host the game for you on our servers BUT branded with YOUR identity. So you won't need to do anything technical to run a scratchcard promotion.
Each promotion is compartmentalised and individually branded with a series of pages unique to you. The promotion pages carry your graphics and personal promotion message with the game and prize structure. There are then "winners" and "losers" pages which carry (your) instructions on what to do next.
You'll find a series of "How it works" videos here.
Prizes
The quantity and frequency of prizes is entirely your choice. We plug the numbers in at the start of the promotion and the system then keeps track of impressions and the volume of winners and losers until the required numbers are reached. Prize structure suggestions >>
Delivery
You have 2 options for delivering the promotion to your target market: E-mail or via a link on your website.
Website links are best-suited to an "open to everyone" promotion: you add a promotional message to your website with a link to the game page (on our servers). That way, anyone visiting your site can enter simply by following the link.
E-mail delivery will work well for a "closed" promotion where you want to limit the game to a specific group of people - whether they're customers, employees or a database of prospects.

Tracking and Measuring Response
Both e-mail delivery and web link responses are monitored by the system using a unique-to-your-promotion set of codes which means we can provide accurate details of how many people have played the game, how many win/lose combinations have been played and how many games are still available to be played.

E-mail
If you choose the e-mail delivery option we'll happily handle the actual mailing for you. The system automatically allocates a unique game code to each e-mail addressee. The e-mail then has a link to your promotion start page where the addressee enters the code provided to access and play the game.
If you would prefer to keep control of your e-mail data and do it yourself, we'll provide a file with the codes to allow you to do just that.
Further information